This page is going to be moved to the blog archieve soon.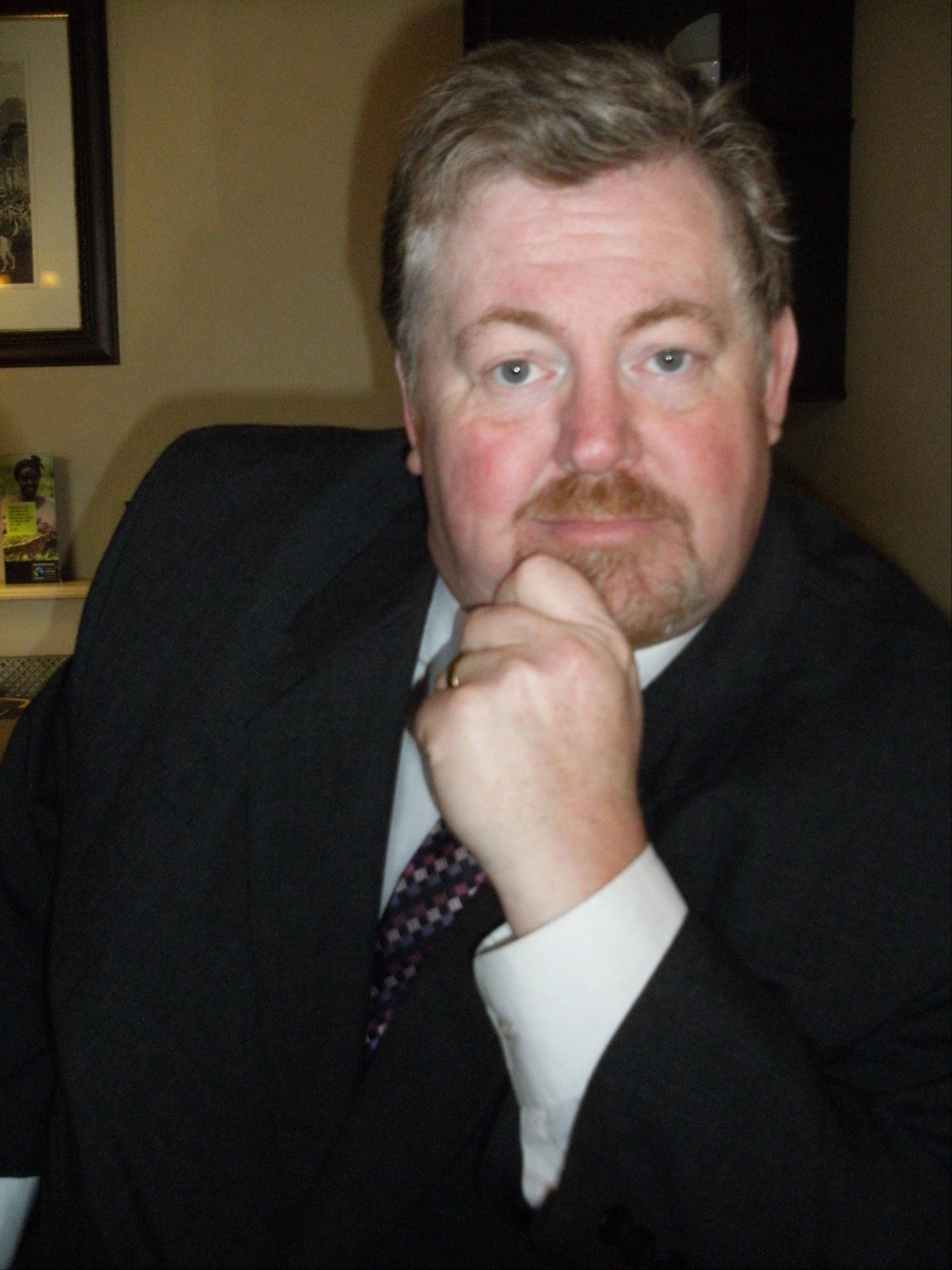 10th May – The election is over for me this time.  Back to work as a nurse today.  Staff glad to see me, as are the patients but all very sorry I did not make it to House of Commons.  So there will be no more on the election diary.  I will start on the blog soon but that may well cover more than just politics.       Thank you.  David
7th May – I arrived at the count just before midnight accompanied by my wife.  It quickly becomes obvious that we have not won the seat.  It is now a battle between Labour and us as to who is second.  The night feels as though it is moving slowly but suddenly it is 0300 hours.  The London Tory has won but now it looks like I am second.  By 0430 hours we have a result.  10,814 votes, an increase of 1,104 votes a rise of 0.1% of vote but more importantly second place.  Private targets all achieved.
0530 hours home, bowl of cereal and bed.  Slept until 1000 hours then up and watched election results for an hour or so.  I can feel Nick and the party's dissapointment.  We need PR if we are going to fix Britain.
Into town at lunchtime.  Dropped of some equipment with a friend and he signed a gift aid for MattDotCom.  I will have to concentrate on the charity as it has been somewhat ignored over the past four weeks.  A quiet coffee with Sharon whilst Charly has her hair done, lunch and then home.  Telephone calls from press for comments and to book interviews about the election.
Home – relaxing now until Monday when back in the office.   
A big thank you to all who voted for me.
A big thank you to all the team who worked with me.
A big thank you to Charly for being my agent
A massive thank you to Sharon for being there at my side all the way.
6th May – Up early and voted.  Then collected by David Miller who was to be my driver for the day so that we could set off around the constituency and the polling stations.  It was to be the start of a very long day and night.  The aim was to visit the last of the places within the constituency I had not managed to visit during the campaign.  At the start of the day I had visited 93% by the end of the day it was 98%.  Missing out about four places but there was a limited to how hard I could push David.  He was an absolute stalwart.  We set off with the p.a. asking people to turn out and vote, preferably for me.  By the end of the day he had driven 166 miles.  Sharon rang to say I had to stop and feed David.  We started in Washingborough (P = visited polling station), Heighington, Branston (P), Metheringham, Blankney, Scopwick (P), Digby (P), Dorrington, Ruskington, Sleaford Industrial, Sleaford Town, Holdingham, Heckington (P), Sleaford, Quarrington, Greylees (P), Wilsford, Ancaster, Sudbrooke, Carlton Scroop, Honington, Barkston, Syston, Belton, Great Gonerby (P & lunch), Barrowby (P), Sedgbrook, Allington (P), Long Bennington (P), Westborough, Hougham (P), Marston (P), Gelston, Hough-on-the-Hill, Frieston (P), Caythorpe, Fulbeck, Leadenham, Welbourn, Wellingore, Navenby (P), Boothby Graffoe, Coleby, Harmston, Aubourn (P), Haddington (P), South Hykeham, Hykeham [Meadow Lane], Hykeham [Fen Lane] (P), Hykeham [Forum], Hykeham [St. Hughes], South Hykeham (P), Thorpe-on-the-Hill (P).   Then home.  A cup of tea and sandwich for David before he heads home for a power nap.  I sit down and promptly fall asleep for an hour.
5th May – Morning spent on e-mails and doing other paperwork.  Then off to North Hykeham to get message out.  Fosse school covered today and then on to The Forum.  Overnight I set up the e-leaflets to be sent out.  Putting end of time settings on them for 2200 tomorrow.  However, technology lets me down and I have to send them out manually when I get up on the 6th.  Evening spent relaxing with wife, agent and Ollie at the Steak and Jazz night at Horbling.  Excellent meal, wonderful music and time to relax before tomorrow's busy day.   
4th May – Another busy day started with visits to Ashby-de-la-Launde, Digby, Scopwick, Dorrington, Ruskington and Sleaford.  Then collected some papers from Sleaford.  Afterwards off to Metheringham School.  Sharon angered by the rudeness of one constituent, who admited to be a Conservative.  As I have said before I will never understand what people hope to gain by being rude.  If I was a Tory would they be as rude or is it a Tory trait when faced by a Liberal Democrat with logical argument?  May be there is a research project here (hee hee).  Then Sharon and I set visiting villages in the west of the constituency.  From Morton and Swinderby in the north to Threekingham and Heckington in the south.  We have now covered 92% of the constituency. 
3rd May  – Sharon and I packed a picnic and set off on the campaign trail.  Before we started we had coffee with my parents to get feed back about last night.  They were very pleased with what I said and the way I came across.    
Then off to the Forum at North Hykeham followed by what felt a bit like a whistle-stop tour of 18 villages.  At Claypole I was told that I got a family's vote for my traffic management skills, whilst in Sutton we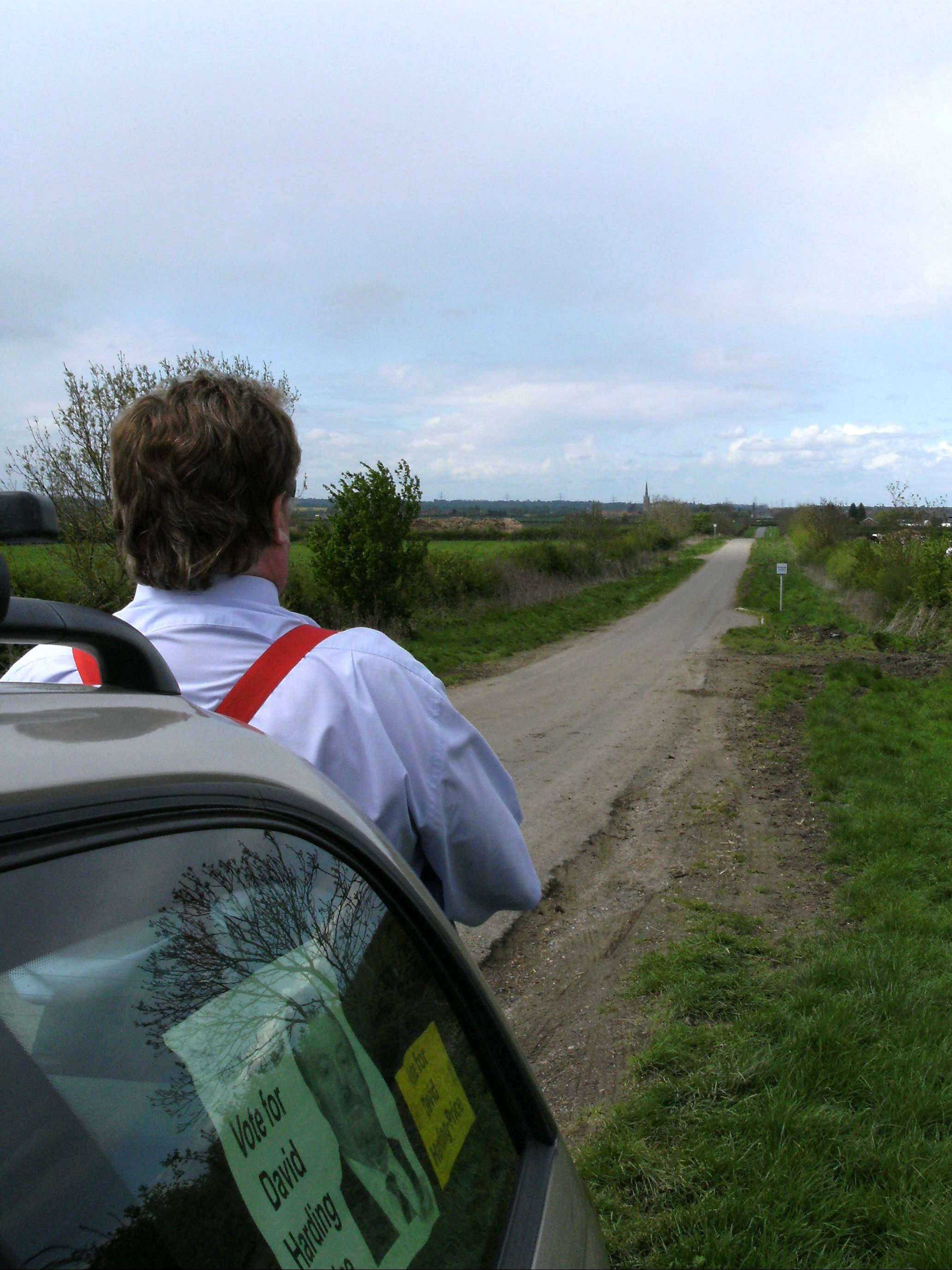 waited for the ladies with their horses to pass and took in the country air.  Stopping just outside Dry Doddington for a break I was able to look back and admire the view (right).  Lunch was had in a back lane between Barkston and Marston sandwiched between the East Coast Main Line and the Skegness to Nottingham line.  Later we called in on constituents in South Rauceby and Cranwell who have promised to support me.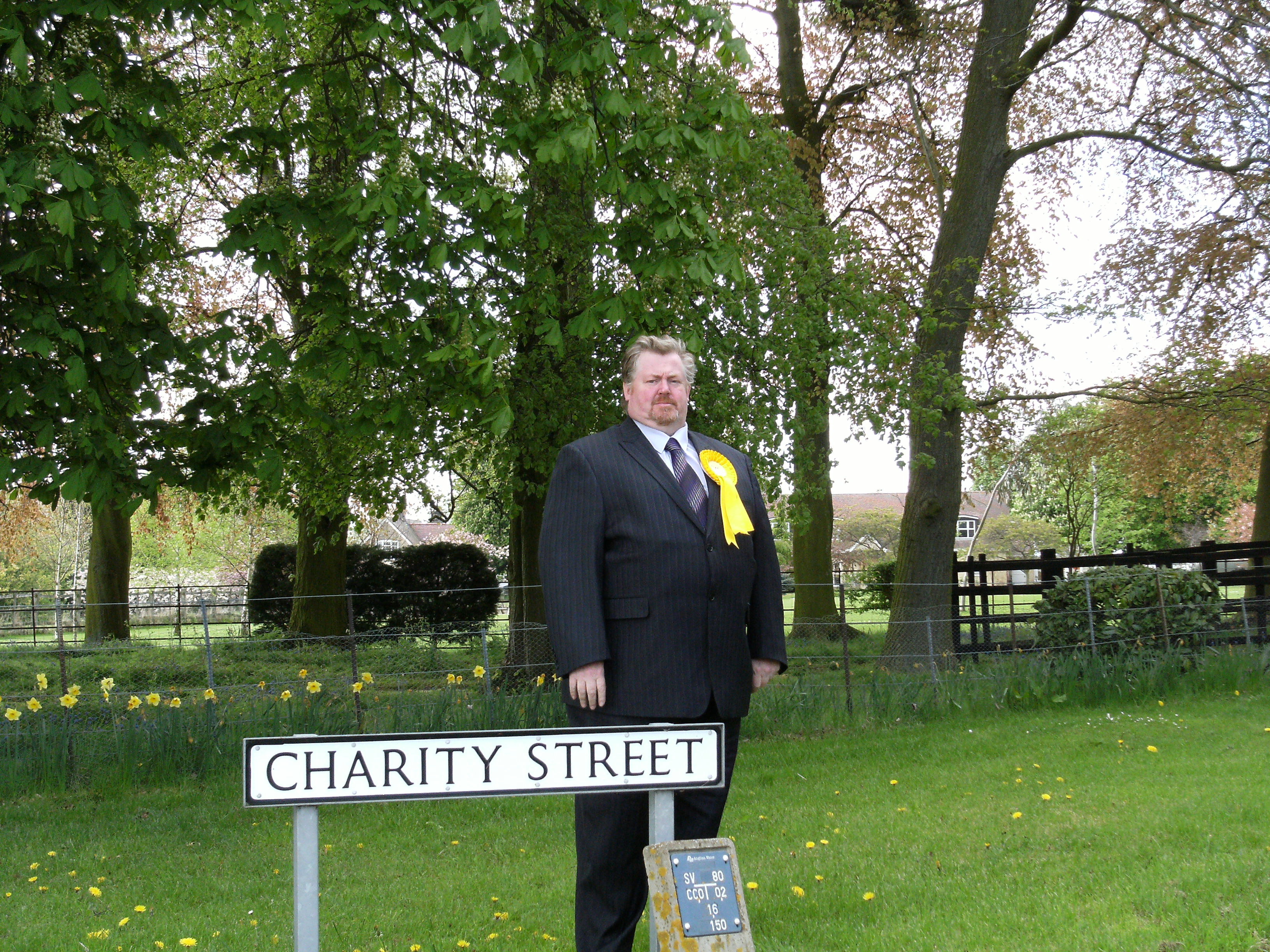 Almost the last of the leaflets left for them to deliver.  So far I have managed to visit 72% of the villages or towns within the constituency.  In many places I am still being told I am the only candidate that they have seen.  Here I am in Carlton Scroop.    
Then back home to collect Charly and her boyfriend.  As a family we set off to the Barge & Bottle (Sleaford) to listen to the local talent playing for the May Day Bank Holiday.  A noisy way to end the day but the burger was good.  I was impressed by the talent of the youngsters.     
2nd May – Sunday morning spent on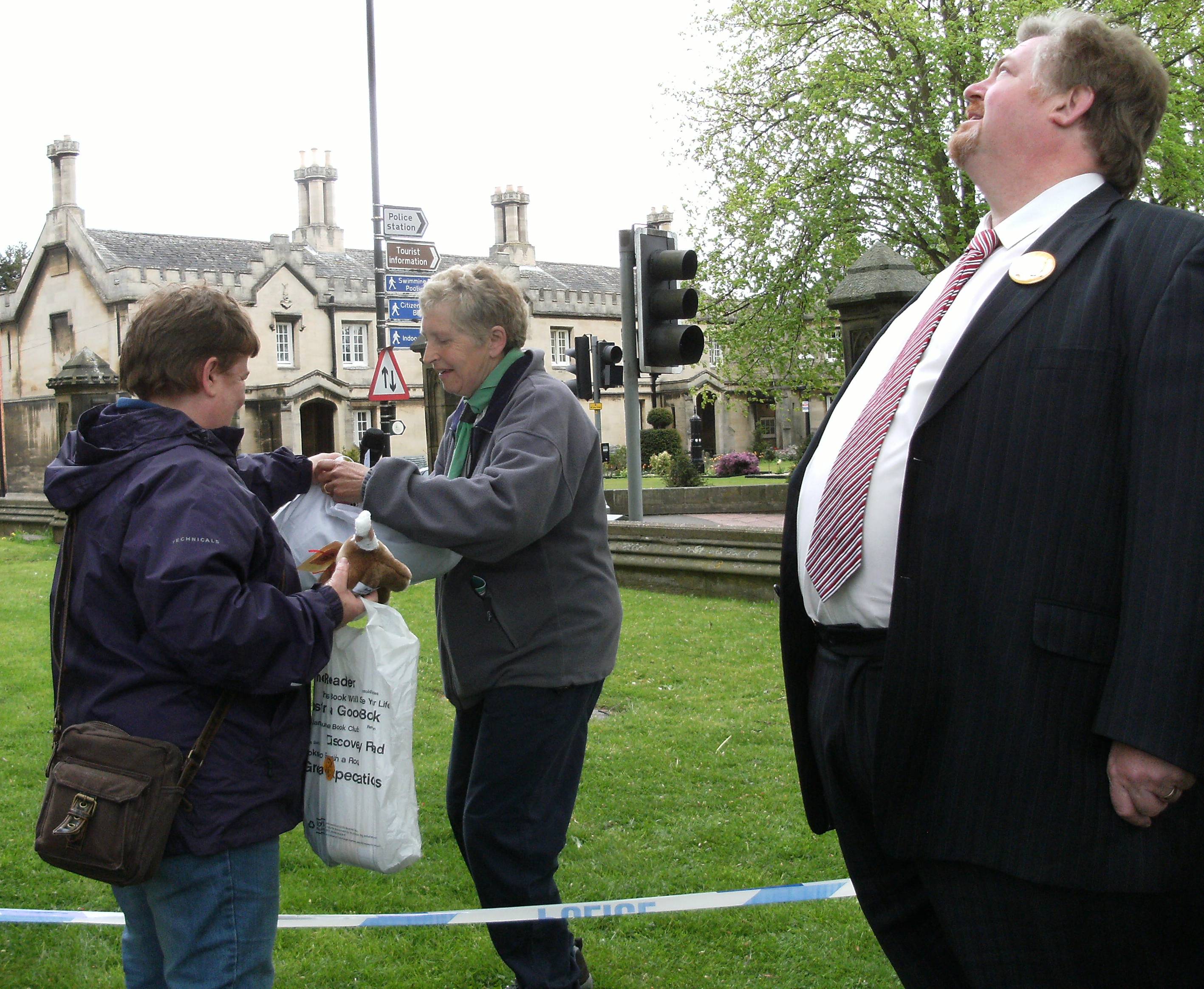 e-mails and e-leaflet about young.  Then off to St. Denys where I watched a "Teddy Bear Parachute Jump".  I am pleased to say my teddy landed safety.  Unfortunately my agent's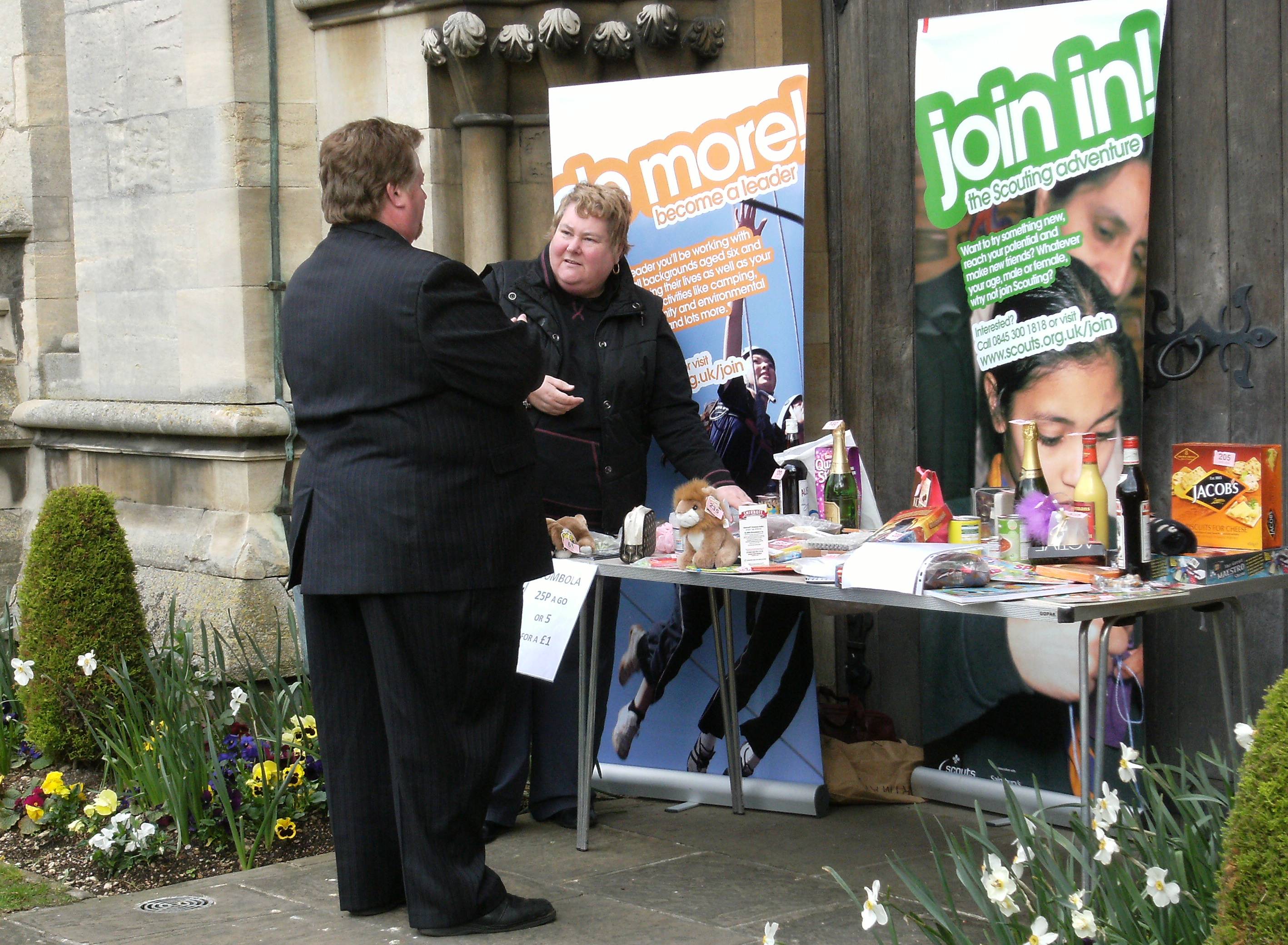 teddy did not so we will have to wait for it to be rescured and collect it this evening at the Hustings. I had a discussion with the Scout leader and gave her a promise that if elected I will come and talk to the Scouts (& Guides).  It appears this has not been offered before and she was pleased to have this promise.  My luck was not in with the tombola.        
Evening St. Denys hustings debate.  The outcome of the debate is that it is now definitely a two horse race.  It is between me, the local Liberal Democrat candidate and the London Tory.  At the hustings questions were asked on a range of topics.  These included ones on expenses and our conscience to fairness and christianity to farming, economy and climate change.  Each candidate was fairly treated by Stephen Faber who chaired the evening.  I again repeated my pledge to the people of Sleaford and North Hykeham that "if they elected me as their Member of Parliament on Thursday I will resign my current job".  Only one other candidate (Labour) has made the same pledge.  The evening lasted for three hours with two hours of debate and 1/2 an hour before and after for the candidates to mingle with the audience.     
Charly's teddy had been saved and was returned to her.    
1st May – Saturday morning – Sleaford market.  Party workers very impressed by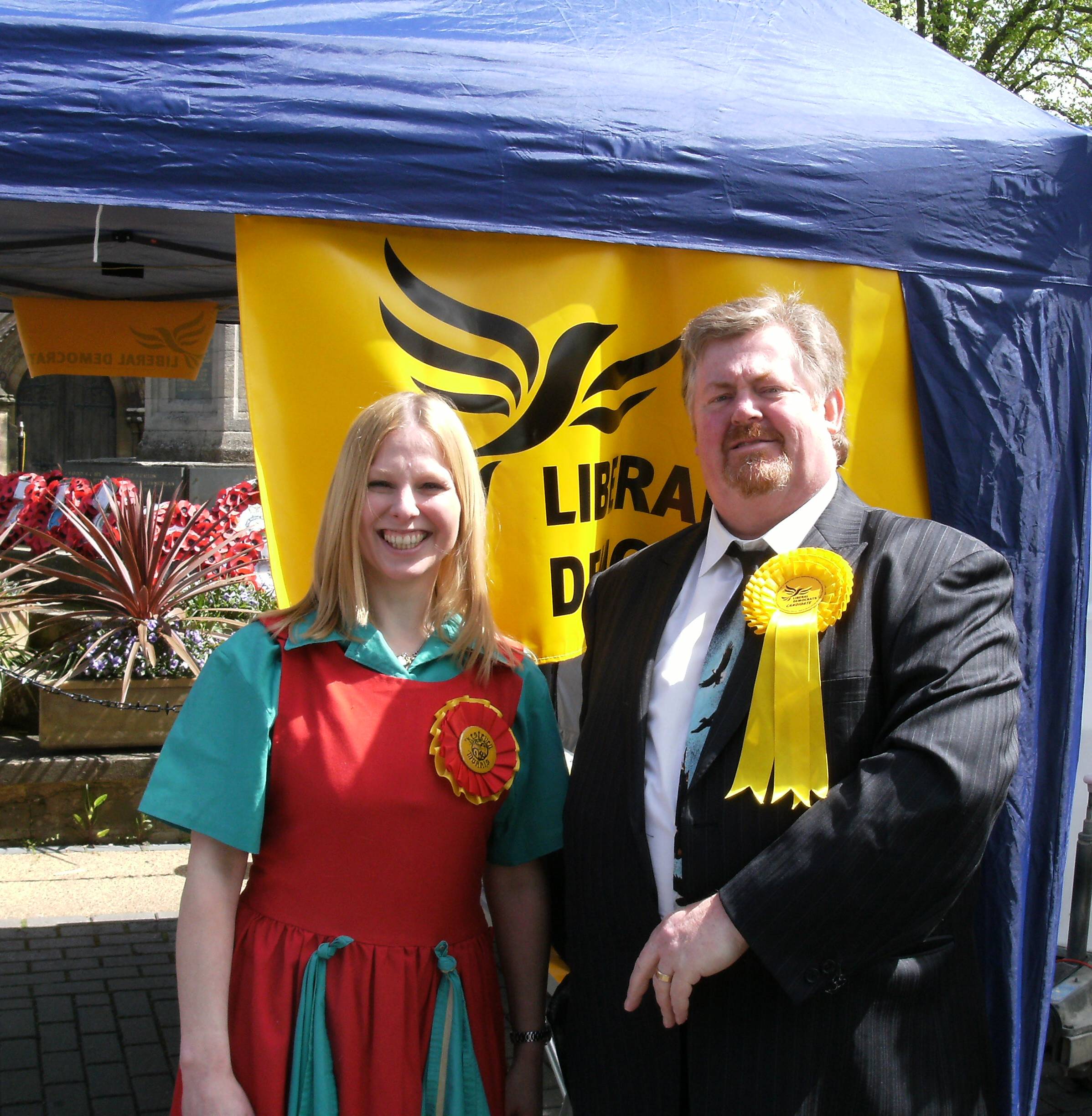 the number of people who either have already voted for me or are going to do so on Thursday.  It is becoming a two horse race here in Sleaford and North Hykeham between me the local nurse and the London Tory.  On a sunny day the gazebo kept people cool and there was a stream of people coming and talking to me about what I and the Liberal Democrats stand for.  Some the die hards from other parties even are starting to waver.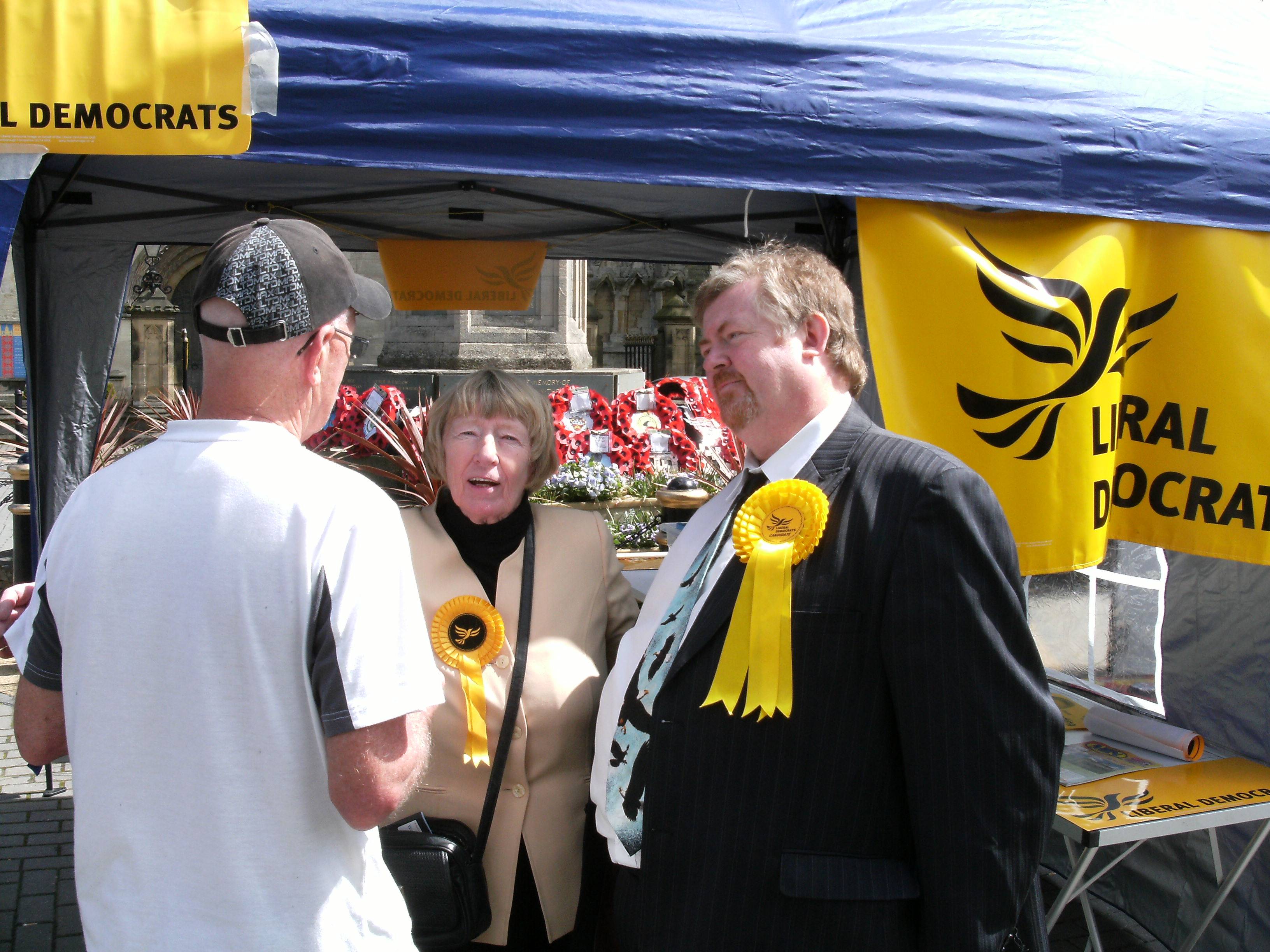 My local roots are often the reason.   
After the market went off and collected other workers and we leafleted Barrowby and Great Gonersby.  Here I was told over and over again I was the first of the candidates to be seen in the area.  A number of people who voted Tory last time said they were going to support me this time.  Three reasons were given, 1) I had made the effort to visit them, 2) they were annoyed with way they had been treated by last MP and 3) they wanted real positive change and they recognised that the Liberal Democrats were the only party able to do this.      
30th April – Out today leafleting and meeting people. 
 Covered most of Navenby and was glad of chance to rest in cafe which has recently re-opened.  We had discussion with new owner about politics and put up posters.  Liberal Democrats policies are designed to support local small businesses like his and I wish him well.  He almost make a good cup of tea.   Weather starting to turn but we set off for South Hykeham.  Managed to get that done before the rain came.  Next Whisby, by now the rain was coming down and the umberellas were out of the boot of the campaign car and up.  Whisby covered.  Now I have personally been to over 60% of the constituency and the aim of visiting every town and village by Thursday is still on.  Increasing people turning to me and the Liberal Democrats because they want positive change and a local MP who will just be an MP is very heartening.  People from both of the old parties who are tired of the old ways of doing things and want somethign new and recognise the Liberal Democrats provide that.      
29th April – Morning spent going through a mass of e-mails on a range of topics from autism to shooting, from wildlife to internet.  The internet has enabled more people to ask questions of candidates.  However, I personally prefer to meet people face to face.  So the public meeting at Kings Arms in Martin Dale was a very welcome break from the computer screen.  Ran in to the second person who said that they could not vote for me because they were of No Fixed Abode.  Unable to get a home.  This is disgraceful and with just under 1,000 homes that could be brought back into use in the constituency nothing has been done about it.  Afterwards the heavens opened and this put pay to plans to get out and about.  So thanks to the pa on car went to a few villages and did some on the spot speeches.  The campaign car has turned out to be useful.  Evening spent listening to the three way debate.  Nick on form, Gordon Brown better this week but Cameron continues to present himself as arrogant – not my word but that of the people watching with me.      
 28th April - Morning spent on final preparation for the day and the visits that have been planned.  First visit is the debate Branston Community College with the Conservative, Labour, Lincolnshire Independent candidates and the head and Father John.  The debate covered education and the NHS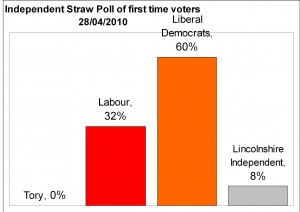 along with other issues.  At the end of the debate the first time voters in the audience were asked to cast how they will vote in the general election.  The result, when it came in, resulted in my wife's face dropping.  The teacher announced the winner the Liberal Democrats with 60% of the vote, Labour came second with 32% of the vote, next came the Lincolnshire Independent with 8% and the Conservative Candidate did not get a single vote.  A clear message to the children's peers and families that the party that will look after young people and working people is the Liberal Democrats.  After the debate three of the candidate went to the sixth form common room and with the sixth formers discussed issues not covered by the debate including VAT, Trident and Dance.  Will-o-the-wisp was gone.   Then moved on to next event, arriving early at Carlton Scroop to meet the Ancaster Table Tennis Club, so with some party supporters we leafleted the village.         
Once the village hall was open I discussed how the table tennis club had been formed so to give young people something to do rather than wander the streets.  The club now has a number of excellent players of all ages.  It retains players of alll ages from the very young to the quiet a bit older.      
Afterward went to a nursing home just outside Grantham to meet the residents.  Again told by the staff I was the only candidate to visit them.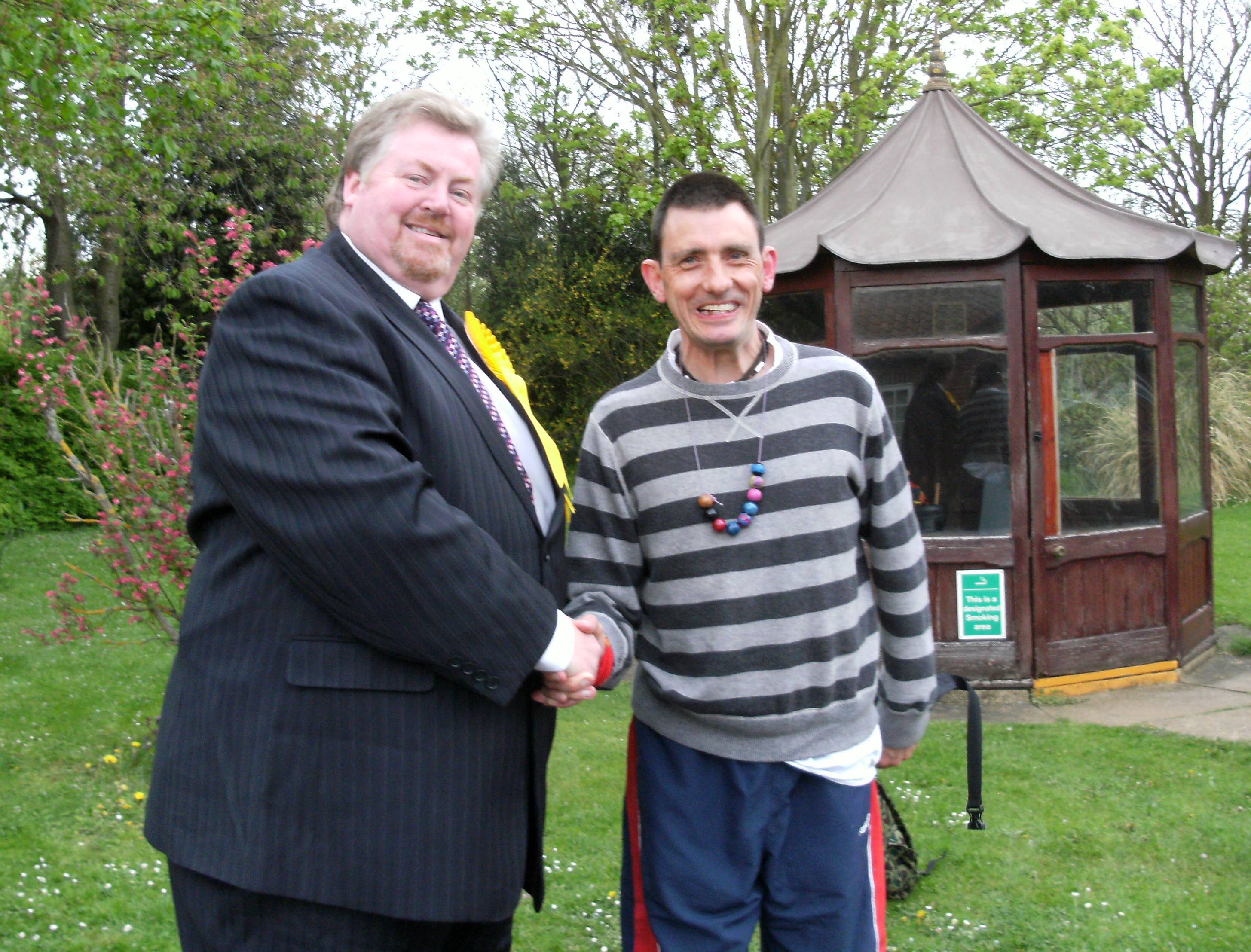 Taken around the home by Peter who proudly showed me his bedroom and then promised to clean it up – one day.  Back to Sleaford for a private meetings with a constituent about the invasion of his privacy as a result of Tory NKDC planning decisions.  Finally a quiet dinner with Sharon in a Sleaford Restaurant.       
27th April – Spent morning out in the north west of the constituency leafleting, meeting people and hearing how Liberal Democrats ideas are increasingly attracting people to vote for us.  Public meeting in the evening at Neale Road Day Centre in North Hykeham.  Gave speech covering our four main pledges, tax, children, green jobs and honesty in politics.   Again the audience warming towards the Liberal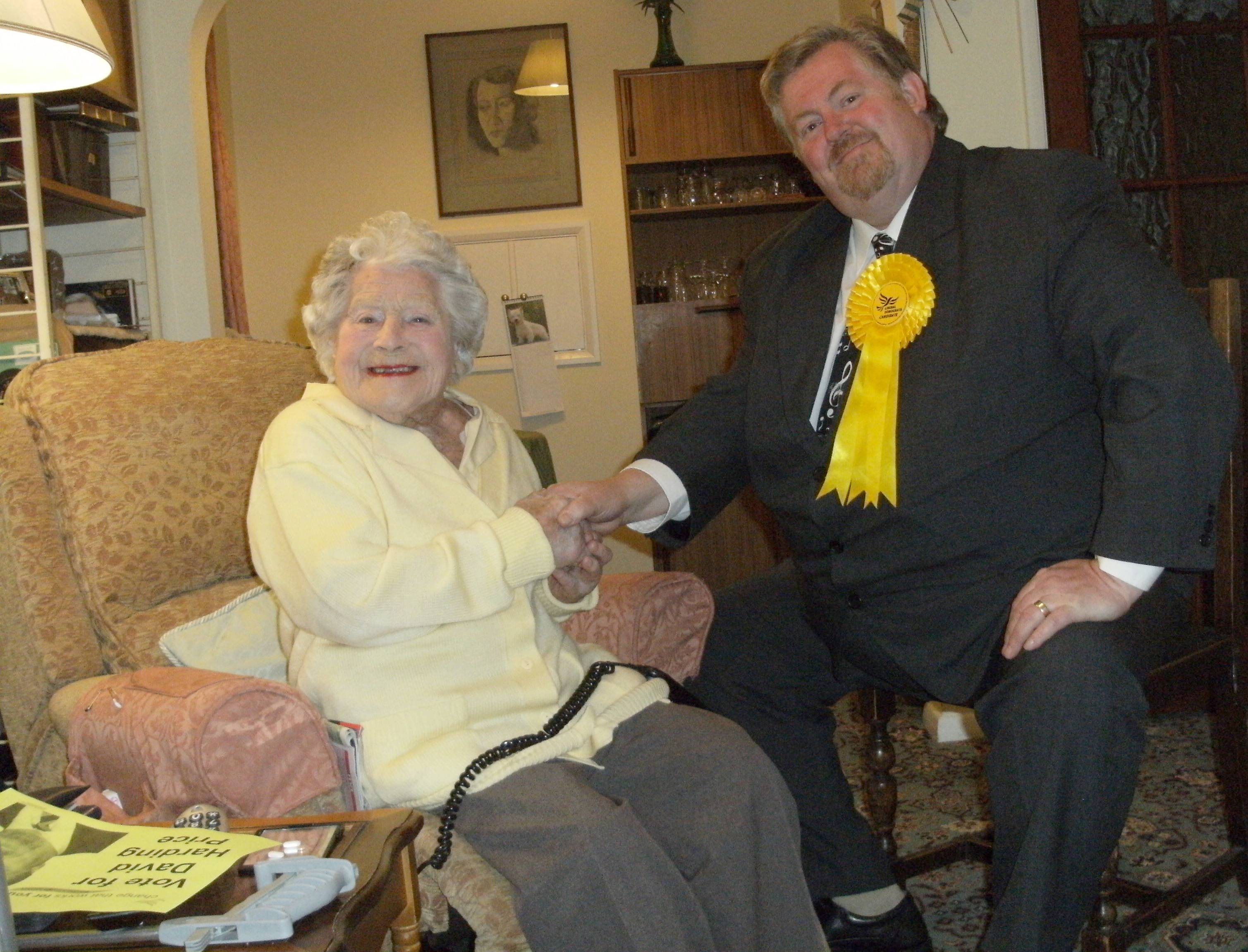 Democrats policies, though trident needed to be explained because of the misinformation from the Tories.  Afterwards a private visit to a 94 year old who had met the King during World War Two and managed to drop metalic waste over his tunic.  She was keen to meet me as a life long Liberal.  she has said she will vote for me and hopes all older people will follow her lead.         
26th April – First thing down to North Hykeham to meet Caroline Davies of BBC Look North.  Lovely sunny day.  Conservative went first and then rushed off much to all our surprise.  He never appears to be around for more than a few minutes then gone like will-o-the-wisp.  Did piece to camera and then short discussion between Caroline and candidates about our campaigns.  Afterwards off around the constituency.  Met parents at Quarrington school.  Afterwards invited into answer questions by an couple and quizzed about policies and personal views.  They had five areas, communication, hunting, , and .          
25th April – Out again today with Sharon.  Requests for more leaflets in Canwick & Heighington (here the person remembered that last time, 2005, I spent much of the campaign in hospital)  and a poster site in Washingborough.  In the afternoon covered Harmston, Brant Broughton, Stapleford, Bassingham and the west of Aubourn.  The heavens opened so we headed back towards home calling in to two nursing homes in North Hykeham.         
In the evening Sharon and I went to the late showing of "Ghost".  Interesting film.  It make you think about how much truth is in it and what the Labour Government did over the Iraq War.         
At some point I must go and see Thompson's Bottom.  Google sends me into a field for Temple Bruer with Temple High Grange.  One does get to see some interesting places when out campaigning.         
24th April – Out and about today in a number of villages.  Sharon not used to the campaign car but it is working.  More posters up, more leaflets out for delivery.  The mood continues to swing toward the Liberal Democrats.  Visited Canwick, Heighington and Washingborough in a.m. and Helpringham, Dembleby, Aunsby, Crofton and Ancaster in p.m.  Private visit to the home of a friend in the constituency to celebrate her birthday.  Then home via Table Table for a meal with Sharon.         
23rd April – I would love to be able to have a battle bus but that would not be very green.  so going for a campaign car.  Picked up Ada and off we went visiting villages.  Anwick, North Kyme, Billinghay (recgonised by a 9 year old), Tattershall Bridge, Chapel Hill, Dogdyke, East Heckington and South Kyme (where a kindly couple provided chilled refreshement which was very gratefully received).  Meet a number of people who are desparate for positive change and see the Liberal Democrats as being the party that will do that.  I am pleasantly surprised by the number of people who say I am the first of the candidates that they have seen and they are going to vote for me.  If this level of support is repeated on the 6th of May Sleaford and North Hykeham will see real positive change.         
22nd April – Morning spent doing administrative matters.  Then the bit I enjoy, out and about meeting and talking with people.  Ran in to the Tory hords outside a school, in Sleaford, we were visiting.  One mother verbally attacks us but not the Torys or the ice cream man I wonder where her political leaning lie.  Well that makes two.  Then off to other side of Sleaford followed by visits to a couple of nursing homes.  At one the staff very pleased to see me.         
21st April – In work as a nurse today.  Patients seen wish me well as do my colleagues.  They have produced a cheeky card bless them.  By end of working day it is 6pm and got an hours drive back to Lincoln.  A quick dash down to North Hykeham to drop stuff off with members after work.  Then home to cook dinner for wife who is working until 8pm, thannk goodness for eggs and left overs – omelettes all round.         
20th April – Up at crack of dawn to get campaign going.  Leaflet gone to Nottingham, Leon Aikman recieved them so that job is done and now it is out in to the constituency.  Branston today, met a number of mums, dads and even grandparents.  Still getting good support.  Interesting debate with a mother and grandmother who were not Lib Dems because of our stance on Trident.  So we discussed it. Did I win them over?  I hope so.  Also had discussion about the Nocton Dairy issue with a number of people.  I set out my position that of now being against it.  I did promise that if elected I would fight the proposal being very aware that NKDC is Tory controlled and they have given into big business before, e,g, Tesco in Sleaford.  Dropped into a nursing home to make sure each resident personally gets some information about the Liberal Democrats.  Campaign meeting this evening but got to go and make pizza first.  Found out at campaign meeting I am going to tweet.  Well one of our younger members will make me tweet or is that make tweets for me.  Anyway a new way of getting out the Liberal Democrats message to the good people of Sleaford and North Hykeham.  Daughter says I should appear on facebook as well.         
19th April – A few bits of office work and then had to go and look after a member of the RCN who was facing a disciplinary.  In the evening worked with the 'troops' to get our Royal Mail leaflet ready for delivery to them tomorrow.  We have a 08:30 – 09:00 slot for tomorrow in Nottingham.  Finally made it 48 boxes of leaflets sorted, labelled and ready for for delivery.  Bed – deep sleep.         
18 April - Spent time, out in the sunshine, in Martin Dales and Martin with my daughter .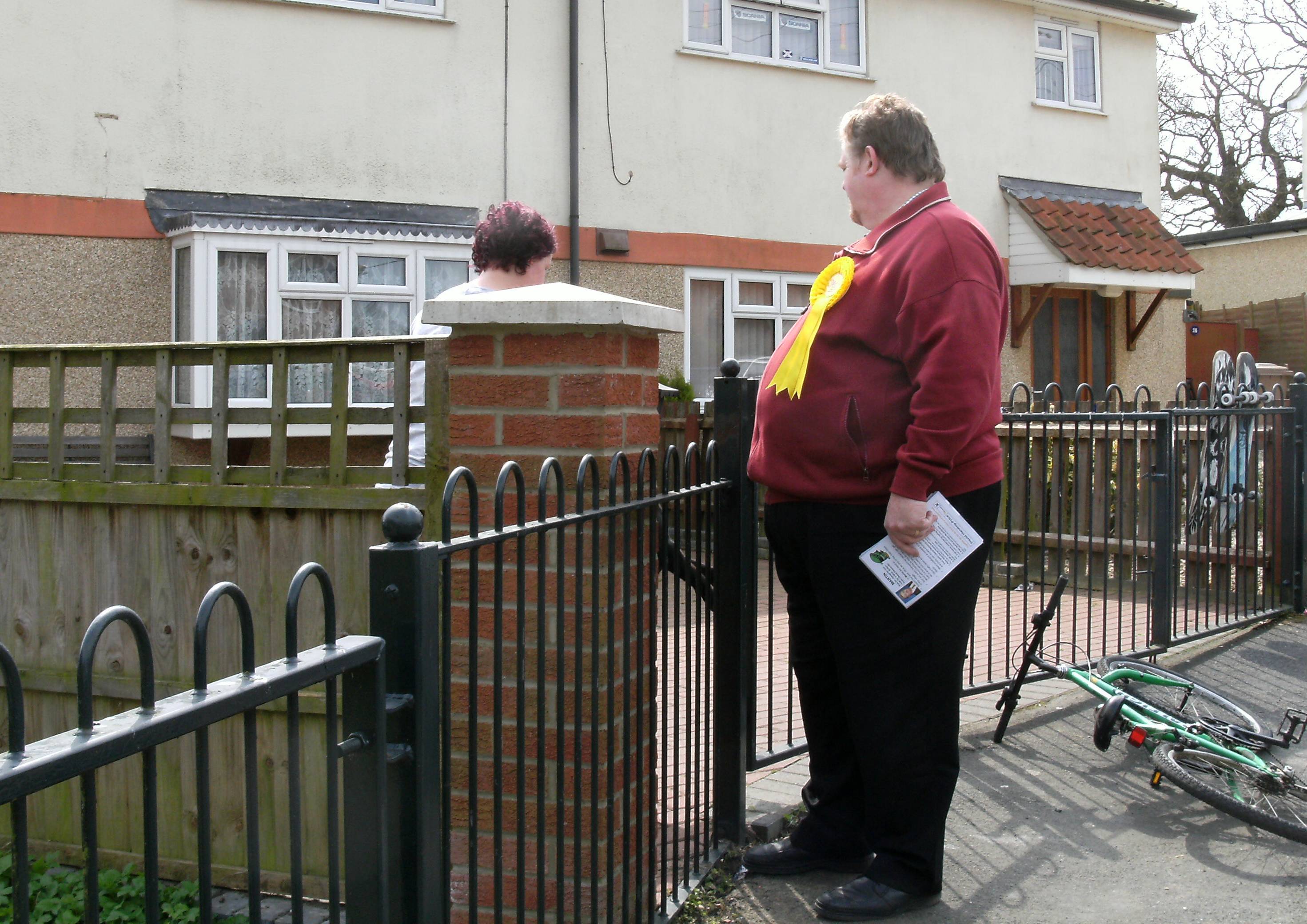 We covered the village with a targeted leaflet and meeting people.  Lots of issues covered from the problems with traffic through Martin to lack of affordable housing in Martin Dales.  At lunch we had a pleasant meal in the Royal Oak, where I ran into a work colleague.  Afterwards we finished off  our delivery in Martin.  Leafleting is becoming very interesting as people stop and talk politics.  The few I met today who said that they were not goingto vote after a chat said that they would consider or would now vote for me.  In the pubs in both villages conversations were very different, in one it was about immigration and jobs, in the other it was about local amenities and housing.  Agreed with the landlady Kings Head to join a public meeting on the 29th April at 3pm.  Why not come along.  Out and about it was clear that people are swinging to the Liberal Democrats from both Labour and the Conservatives.          
17th April  – Out with members.  More leaflets going out today, posters going up, everyone enthused by Nick's performance on Thursday evening.  A couple of Labour supporters said they are going to vote for me.  First e-leaflet out (anyone who wants copy send request via this link http://www.davidhardingprice.co.uk/?page_id=36 ).  My parents home today so went to see them on way home.  Put posters in dad's car so when he goes swimming he is supporting me.  Wasn't today a glorious day to be out and about.         
16th April – At work as a nurse.  By time got finished exhausted.  Quiet evening in with my wife.         
15th April – Went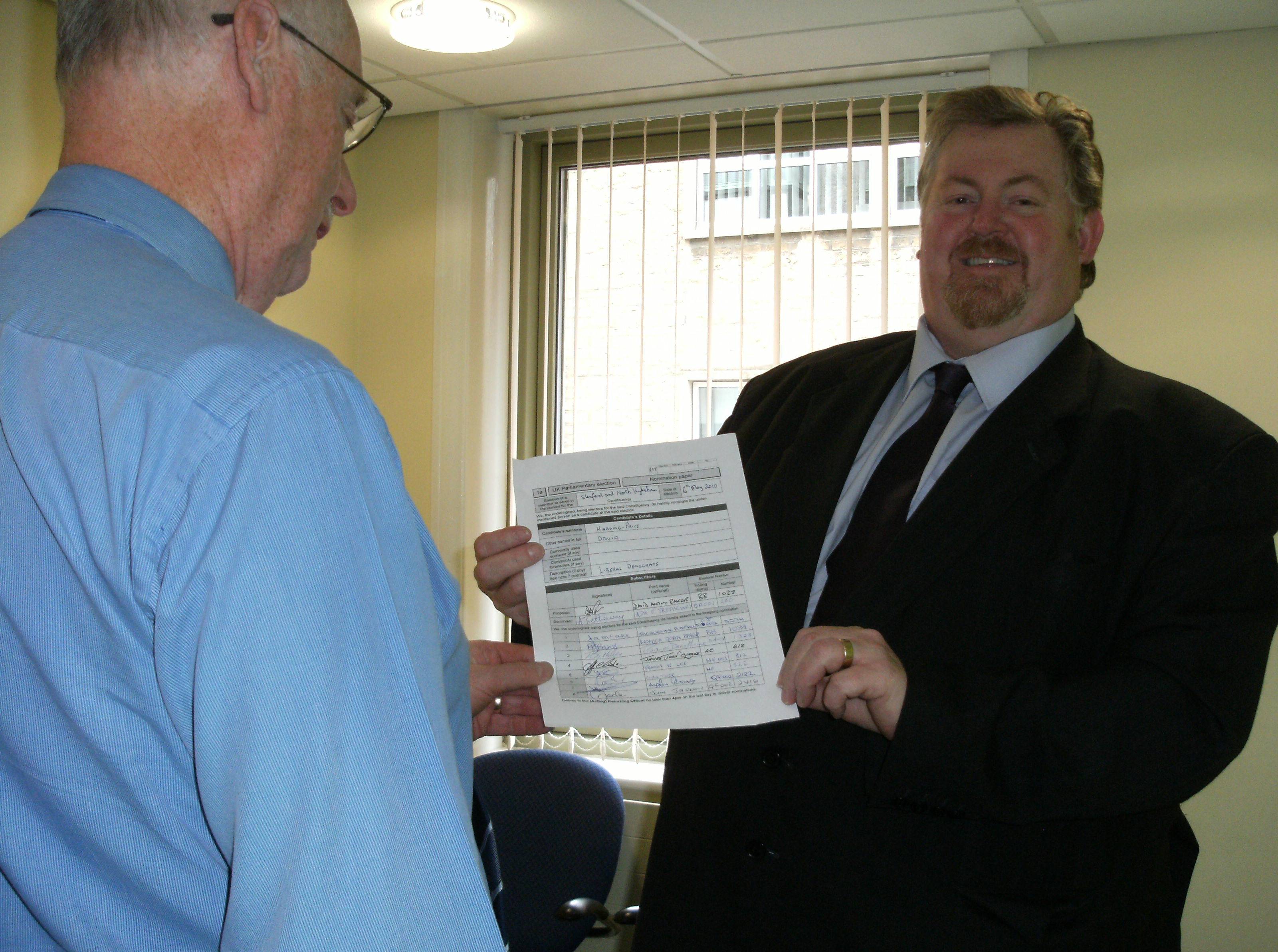 with my wife and lodged election documents with Returning Officer and handed over £500 as deposit to be a candidate.  Now I know my name will be on the ballot paper and you will be able to vote for me.  A vote for me is a vote for change and fairness.  Afterwards went to see member in Ruskington who is busy working with specific groups of voters.  Then went around Timberland meeting people where I discussed a number of issues.  Met a father who is concerned that his son, sent to war by Tony Blair, still not properly provided for and that his equipment either is poor quality or non-exsistant.  Meet another person who was concerned about the future of the post office.  With three locally which were under threat in the last round and two closed, though thankfully t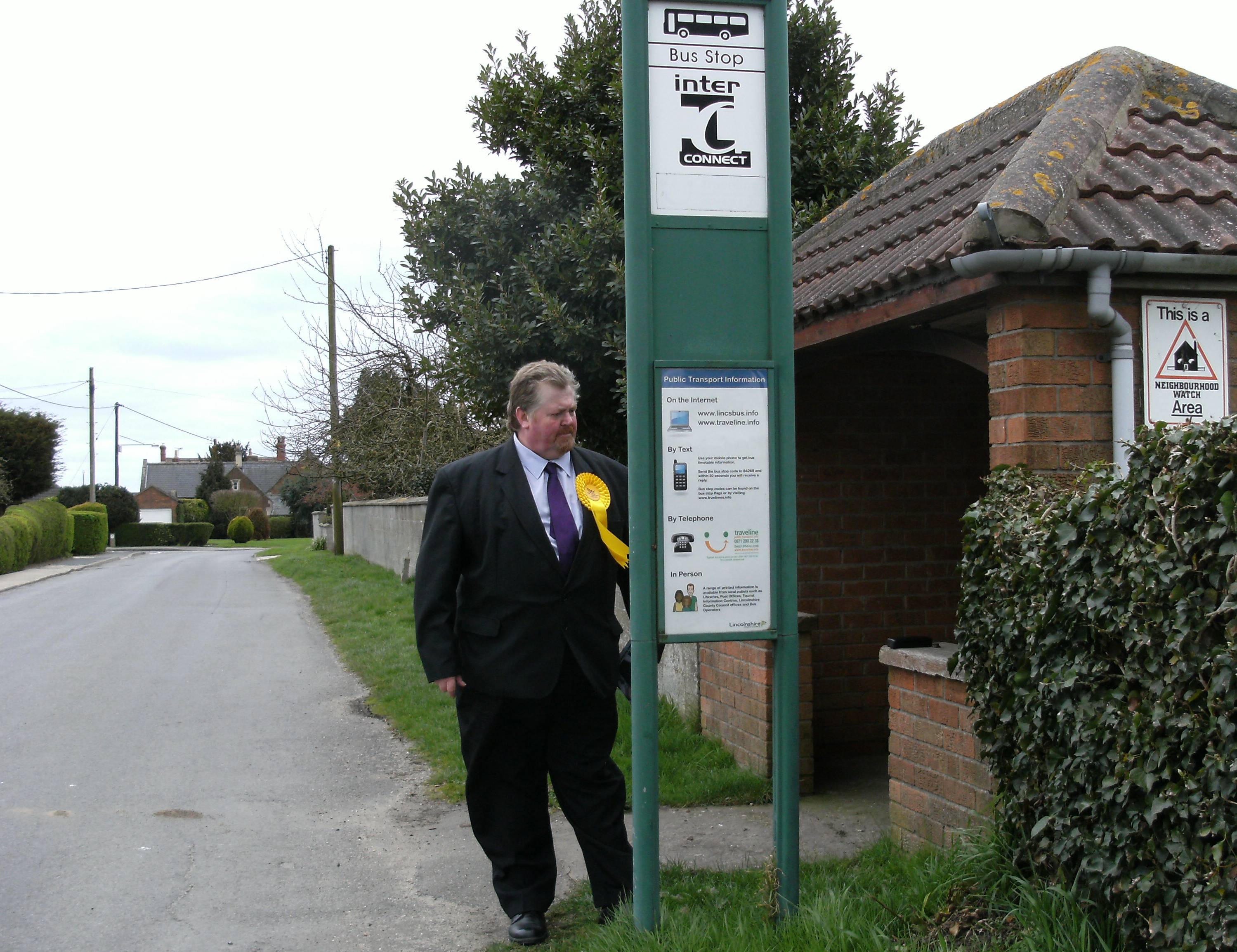 imberland did not and  Martin Post Office has since open again I was able to tell them under the Liberal Democrats we would support local post offices and the associated businesses which provide basic essentials to villages like Timberland.  Especially with the poor bus services in and around the constituency villages.  No surprise I asked people to support me, a number said that they were, others were either undecided or not going to vote.  The latter is worrying.  Your vote and right to vote is something we all defend and what our grandparents fought for in the second world war.         
14th April – Spent day at work.  Patient a little better and a colleague will monitor them whilst I am on campaign trail.  Staff saying the same as patients did on Monday, they do not want to loose me to Parliament but recognise that I would do as good a job for the constituency as I have done for them over the past five years.  Over lunch did one minute interview with Radio Lincolnshire over the telephone.  Challenged to get our economy policy out in one minute.  So set out what the Liberal Democrats will do to bring the budget back under control.  To do this we will close tax loopholes, treat capital gains as income, give tax relief on pension contributions at basic rate and have a mansion tax for properties valued at over £2 million.  This will enable the Liberal Democrats to raise the tax threashold to £10,000 giving most working people and pensioners £700 in their pockets.  We will also boost the state pension by restoring the link with earnings link.          
13th April – Radio Lincolnshire (9am) for a three way debate.  We may have sounded like elegant swans but good job it was radio and not television.  As I type this poor Michael Hortin is sat watching the Imps and the score is 1:1 at half time.  After radio session collected leaflets from printers and set off to spend the rest of the day meeting people for private meetings around the constituency.  Issues raised included Tesco in Sleaford, traffic conjestion, rural issues around housing and transport and the fact that supermarkets do not give farmers a decent price for their products.  It was interesting to hear how many people I spoke with support Liberal Democrat policy on how we will ensure farmers and consumers both get a fair price for food by creating a legally binding supermarket code, enforced by an independent Food Market Regulator.         
 The Nocton Dairy issue came up during the day both on Radio Lincolnshire and in other conversations.  I have made it very clear that I am against the idea.         
Oh dear County scored in the second half.   Ooops in goes another 3:1 at end of play.         
 12th April - Saw patients today told them that I was going to fight the seat in the General Election.  Had to explain that if elected I would only be back to say goodbye.  All wished me the best and whilst they wanted me to win on a personal note wanted me to stay as the person looking after them. 
After work I went to North Hykeham and Coleby. Before adoption meeting in the evening had a quiet drink in The Tempest with the locals.  Discussed a number of issues (see blog).   At the public meeting held in Coleby Village Hall;  attended by both the public and party activists;  I was adopted as the Parliamentary Candidate for the Liberal Democrats.   Spoke about need for fairer taxation, border controls and pay deals that give lowest and highest paid staff in NHS same cash amount.         
11th April - Today I was in Branston Booths and Branston.  Private and public visits.          
10th April - I was in Sleaford, went to the Art Fair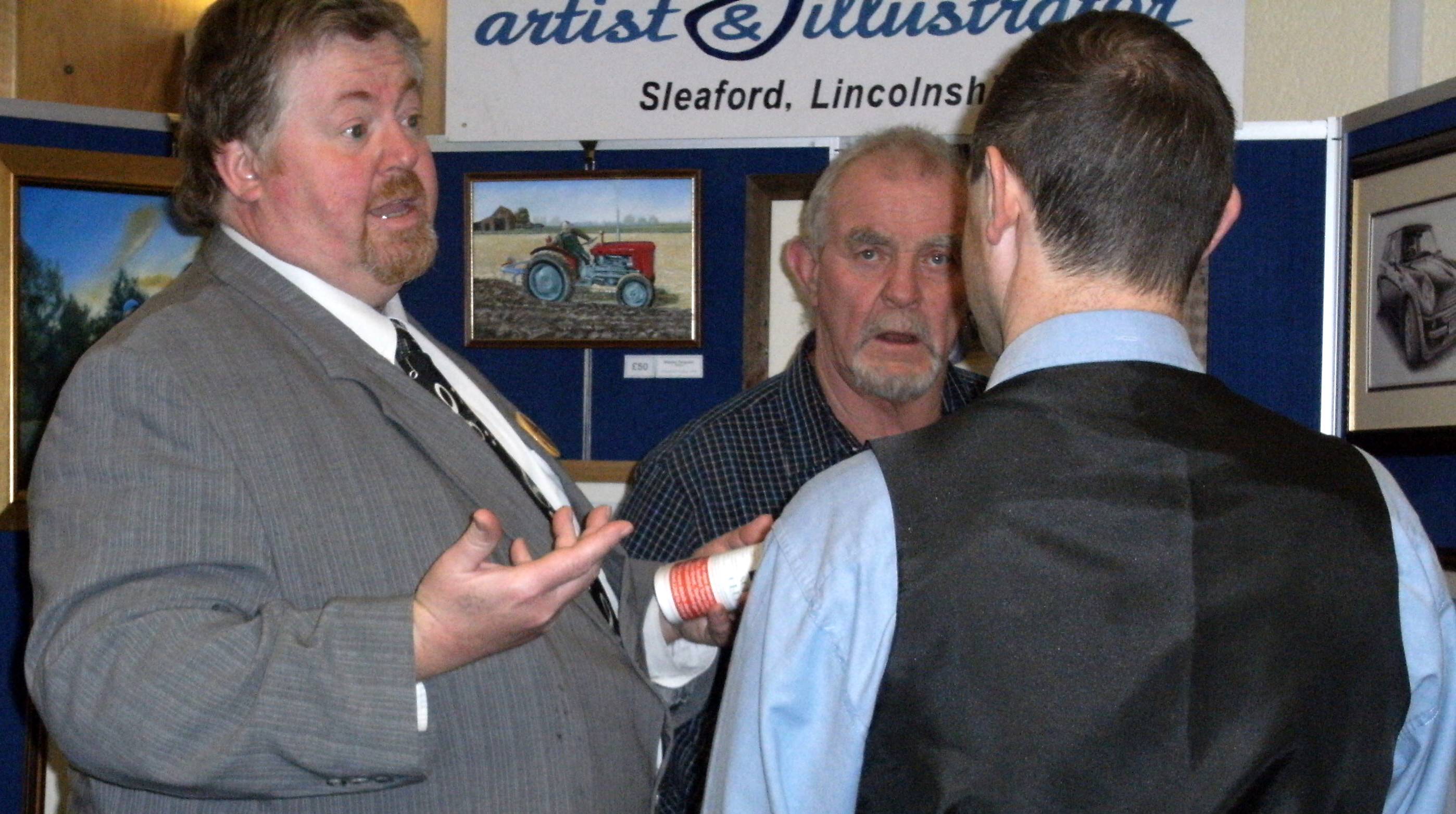 at NKDC where I met with artists, other craftsfolk and the public.  Discussions were had on art, public transport, local services, death penalty and markets.  Afterwards went to Sainsbury's, some-one said a couple of days later they had seen me there and now were thinking of voting for me.  Afterwards went to Cogglesford Mill with wife and daughter.